EMV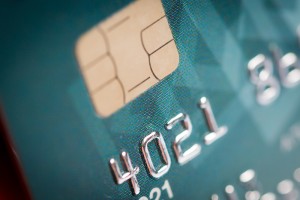 What are EMV cards?
EMV stands for Europay, VISA and MasterCard.  Currently, traditional card transactions are processed through the information contained on the magnetic stripe of the card.  With EMV cards, a small computer chip is included in the card.  The technology associated with the chip adds a layer of verification when the card is used at an EMV enabled terminal to help ensure that the card has not been duplicated.  You may hear EMV cards referred to as:
Smart card
Chip card
Smart-chip card
Chip-enabled smart card
Chip-and-choice card (PIN or signature)
EMV smart card
EMV card
When will I receive an EMV card from Exchange Bank of Missouri?
At this point in time, Exchange Bank of Missouri does offer EMV Cards. Contact your local branch to find out how to get one, or wait for your card to expire. At that point, you will be issued an new EMV Card. Your card number will change, so please keep in mind you will need to contact anyone you have automatic payments with that coming from your card.
Are merchants and financial institutions required to update to EMV?
No, there is no legal or regulatory requirement for either the merchant or the card issuer to update to EMV.  In fact, estimates are that only about 50% of terminals, 29% of credit cards and 17% of debit cards will be EMV-enabled by the end of 2015 with widespread rollout not anticipated for several years.
Will my Exchange Bank of Missouri card work in an EMV-enabled terminal?
EMV-enabled terminals also support current card-swipe technology, so you can use your existing card at any EMV-enabled merchant or ATM location.
Will EMV cards eliminate card fraud?
No, EMV will not eliminate card fraud.  For example, since the physical card is not utilized for internet based-transactions, EMV will not protect against fraud in those situations.
What is the value of EMV?
If fraudsters produce a copy of a traditional magnetic stripe card, they can use the card repeatedly because the data on the magnetic strip doesn't change with each transaction.  With an EMV card, the computer chip creates a unique transaction code that changes with each use.  If chip information is breached, the typical card duplication would not work because the information would not be usable for other transactions.  EMV technology will not prevent data breaches from occurring, but it will make it much harder for criminals to successfully profit from the data they've obtained.
Why the delay in full market acceptance?
With an $11 billion estimated price tag for full deployment, some merchants have delayed installation of EMV terminals.  Furthermore, EMV does not address fraud related to "card-not-present" transactions, such as internet-based transactions.